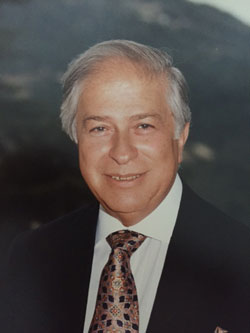 Raphaël & Associés was founded by the late Moussa Raphaël in 1959. Moussa Raphaël was the only lawyer in all of Lebanon to be named a "senior statesman" by the international legal guide "Chambers" (2009). He was also recognized as "having immense prestige" and was "one of the most renowned practitioners in Lebanon".
These praises do not come without warrant. Admitted to the Beirut Bar in 1957, Moussa Raphaël was the Managing Partner of Raphaël & Associés until he passed away. He worked extensively in Europe and many Arab countries, most notably in France and the Kingdom of Saudi Arabia. He served as the chairman of arbitration or as the sole arbitrator in several ICC arbitrations. He was a member of the International Bar Association, the American Bar Association, and the ICC Counterfeiting Intelligence Bureau.
Moussa Raphaël advised major Lebanese and European banks on matters ranging from litigation to the issuance of financial instruments. For several years, he acted as lead defense counsel in a major international case for clients in relation to financial crimes in several countries. He was highly regarded as both an arbitrator and as a counselor in arbitration proceedings. His broad and diverse client base included among others multinational businesses, construction companies, hotel and leisure companies, leading telecommunications operators and financial institutions.  He was sought after for bringing a level of seniority to the negotiation table and for his ability to find a solution to any complex issue.
To add to his impressive accomplishments, he advised multinational construction companies in general construction issues as well as litigation and arbitration.  He also acted as outside counsel for a leading telecommunications operator in the MENA region.
Moussa Raphaël was a respected figure in the marketplace. He served as a board member in several companies and banks including as a Board member of Allied Arab Bank (London) and as a member of the Board of Directors of the National Bank of Kuwait (Lebanon), Banque Libano-Française SAL (Lebanon), Société Générale d'Entreprises Touristiques sal ("SGET") – owner of Summerland Kempinski Hotel Resort and Village.
Born in Dlebta, Lebanon in 1932, Moussa Raphaël attended Jesuits School in Beirut for his Elementary and Secondary Education and, later on attended Saint Joseph University in Beirut to obtain his French Master of Laws (1956) and a Lebanese Master of Laws (1957). He was known as a strong, yet kind and wise man who took every opportunity he could to unleash the potential of people around him. In both his personal and professional life, he inspired those around him to continue growing and achieving. He is remembered for honoring and appreciating every person he encountered and for the trust and security he inspired. He continuously strove to make the world a better place.